WE OFFER OUR BIZON BLOCkS IN THE FOLLOWING VERSIONS. IF YOU HAVE SPECIAL REQUIREMENTS, PLEASE DO NOT HESITATE TO CONTACT US. The BIZON family One principle for all contact sizes qualified according to ICE 60352-5 and vehicle standards and used millions of times over
The needle-eye contact no contact in the middle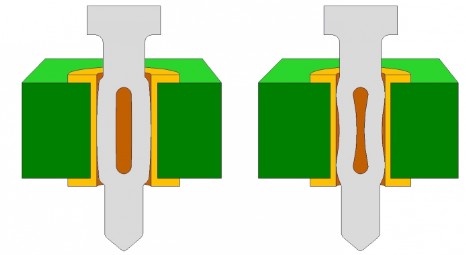 For thinner PCBs and especially for metallic lead frames (usually thinner than 1.6 mm), this can lead to malfunction.
Needle-eye contacts for smaller holes than 0.6 mm can no longer be punched reliably (cracks).
Needle-eye contacts (and similar geometries) always have an inner distance between both legs in their entire lengths.
The hole must be larger by this distance. Loss of space. The clearance and creepage distance decrease.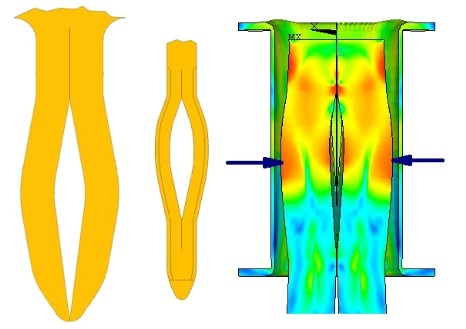 Bizon Contact
Almost looks like the eye of a needle, but ....


ALWAYS APPLY THE GREATEST CONTACT FORCE TO THE CENTRE OF THE CIRCUIT BOARD, AS THIS IS WHERE IT IS MOST STABLE.
BIZON contacts have no unnecessary space between the legs because they are in contact with each other at the top and bottom.
Jumping inward (collapsing) is thus impossible.
The legs become more stable, more power, higher capacity for electrodynamic forces, full cross-section in the hole.
Or the hole becomes smaller, thus smaller grid or higher dielectric strength also inside the PCB (caution 48 V).
The contact force always remains in the center of the contact.
Therefore, thinner PCBs and press-fitting in lead frames (busbar) are possible and safe.
BIZON contacts are available for holes from 0.3 mm. Cracks on the legs do not occur even with the hardest material.
Adjustable contact force
Unique feature
What are the benefits?
Changed materials for PCB and contact require adaptation of the contact.BIZON-Kontakt is quickly designed for the right holding force. Shortens development time, saves costs. Fully elastic, it becomes a BIZON plug contact. Direct plug connector for PCB.
How does it work?
The spring range is lengthened (smaller contact force) or shortened (larger contact force) at the contact.

Spring long= soft spring short = hard
Of course, there is no danger that the determined dimension would change again during the series and the contact would not be constant in its properties. The straightforward adjustment of the contact force only relates to the development for a specific project and is then fixed in the punching tool.